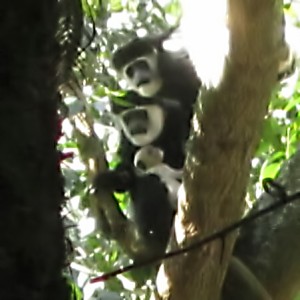 NEWS FLASH — The Karura Colobus monkey transaction project is one of the most successful ever undertaken for arboreal primates!
Peter Fundi and his team from the Institute for Primate Research have persevered through the onset of the rains and  fought slippery slopes on the edge of the Aberdares to capture 8 more black-and-whites. The monkeys were held in a new acclimatisation cage for only one day and then released into the forest before they got too cold and wet. Andrew Kuria, the IPR-FKF Colobus Field Assistant reports that all are doing well and have moved towards Junction 23.
The total number has climbed to 106, which includes six infants conceived and born in Karura: a great start for a healthy population. The target of 100 — calculated on the basis of estimated availability of food plants for the monkeys — has now been reached for the main forest, but may grow further if Peter and his team manage to capture the remain few individuals of the last group.
The black-and-whites are settling in and beginning to spread out: recently they have been spotted along the Family Trail between Junctions 2 and 3, and as far north as the Ruaka River swamp around Junction 39. One recent male, dubbed 'Frenchie' because of the red and blue paint markings on this white tail has been seen at Amani Garden.
The re-ntroduction of Colobus Monkeys (Colobus guereza kikuyuensis) began aover  year ago. Under the careful and experienced protocols of the Institute of Primate Research (http://www.primateresearch.org/), FKF, along with KFS and KWS, and with more generous support from AFEW (African Fund for Endangered Wildlife) has brought this iconic highlands primate sub-species back to Karura Forest from remnant, endangered populations on the fringes of the Aberdares in the region of Kiribati and Wanjohi.
The isolated animals are gently encouraged to seek food in humane trap cages. The monkeys are first released in a large holding-acclimatisation cage in a hidden location in the heart of Karura, as you can see in the video. Colobus can now be spotted them in the forest canopy as you walk through the indigenous parts of the forest. Look for the conspicuous bushy white tale. And see more images on the FKF Facebook page by clicking here.