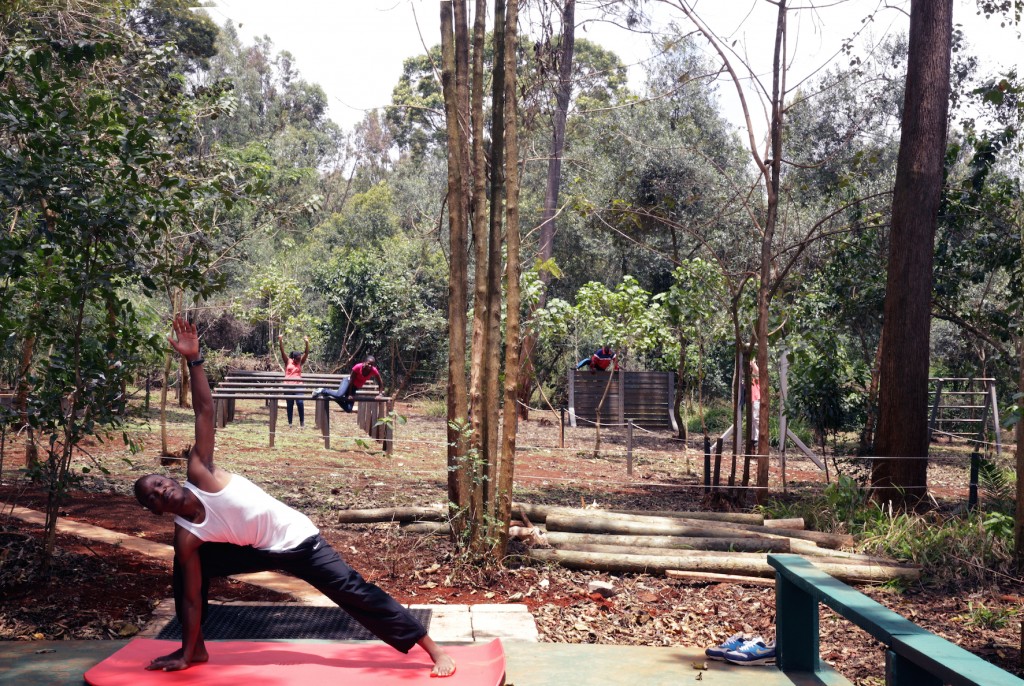 Opening Monday, 15 September, at Karura Forest, Sigiria Block, next to Thigiri Gate entrance (end of Thigiri Lane off Thigiri Ridge). 
Test your fitness on the Obstacle Course. Yoga, Pilates, H.I.I.T. (High-Interval Intensive Training – "Heat") on the purpose-built Qi Platform. Team-Building and Personal Training available. Controlled exercising on the Jungle Gym. All activities under trees in the forest's fresh breeze, soothed by birdsong and the wind in the leaves.
For fees and package deals contact: 0721 686513 or info@pro-wellness-solutions.com.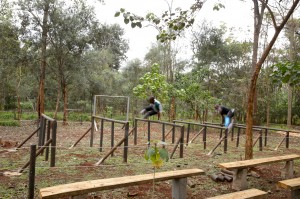 Colobus Monkeys (Colobus guereza kikuyuensis) are being successfully re-introduced to the forest. Under the careful and experienced protocols of the Institute of Primate Research (http://www.primateresearch.org/), FKF, along with KFS and KWS, and with more generous support from AFEW (African Fund for Endangered Wildlife) has been working hard to bring this iconic highlands primate back to Karura Forest. Remnant, endangered populations on the fringes of the Aberdares have been identified.
The isolated animals are gently encouraged to seek food in humane trap cages. To date, 25 individuals have been released from holding-acclimatisation cage in a hidden location in the heart of Karura. See if you can spot them in the canopy as you walk through the indigenous parts of the forest: look for the conspicuous bushy white tale. And see more images on the FKF Facebook page by clicking here.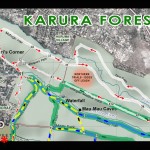 With the building of a bridge across the Karura River beyond Junction 12a, and the new bike trail from Junction 12 to the bridge, bikers can now access the northern bike trail directly from KFEET. The other direct access to the trail is from the 'Sharks Gate' (Gate 'C') entrance off Kiambu Road. The gate, which is a point of payment for entry fees, is open on weekends. There is parking inside the gate and a toilet.
Note that the whole of the northern portion of Karura, north of the Karura River, is currently a Dogs Off-Leash area. If you walk your dog there, please keep him or her under control, and don't allow any chasing of people, bikes or wildlife.
Until a new map gets printed, you can get one by clicking here.
Kenya Forest Service
Inspector Ezra ………….……… 0724 145314
Sgt. Catherine ……..…….……. 0725 370990
Corp. Adano …………………… 0720 300249
John Orwa, Chief Forester …… 0727 818963  
Friends of Karura Forest
John Chege, Chief Scout ……. 0724 215423
Peter Njui, G4S ……….………. 0722 846264
Karanja Njoroge, Chair ………. 0729 030301
Cristina Croze, Vice-Chair …… 0722 204861
Please make a note of these numbers and carry your mobile with you. Keep to the marked trails and exercise caution particularly when they are wet and slippery. Note that mobile reception is virtually non-existent along the Karura River between the Mau-Mau Caves and  the Waterfall.