Dog Walkers in northern part of the main forest Please Take Note. Tara Path together with the new picnic site along the Ruaka River near the Tree Outlook Platform is now an On-Leash zone.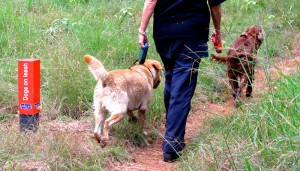 The whole of Wangari Maathai Track and Muhugu Trail remains off-leash, for the time being (see map). That still gives you and your dog over 8 km of trail on which to exercise. Note that the area to the south (left as you are walking from Sharks Gate) of Wangari Maathai Track is strictly a no-go wildlife zone down to the Karura River.
There have been more incidents of dogs bothering visitors and killing wildlife — recently a Suni was torn to pieces by two ridgebacks whose owner was obviously unable to control them and seemed indifferent to what was happening. 
WALKING YOUR DOG IN A OFF-LEASH AREA IS NOT A LICENCE TO HUNT OR HASSLE VISITORS OR ATTACK OTHER DOGS. DOGS MUST BE UNDER CONTROL AT ALL TIMES, EVEN IN OFF-LEASH AREAS. OFFENDERS SHALL BE SUMMARILY BANNED FROM THE FOREST.
Thanks for your cooperation.