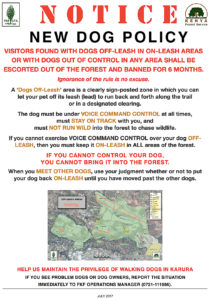 Kindly be advised that continuing abuse of the dogs-on-leash rules has forced the Joint Management Committee to tighten the policy concerning walking dogs in Karura Forest.
Please note that as of the coming weekend (22 July), if visitors are found with dogs off-leash in on-leash areas OR with dogs out of control in any area, they will be summarily escorted out of the forest and banned from entry for a period of six months. If there is an infringement after that, they will be permanently banned.
The fact is, continued flouting of common-sense dog and dog-owner behaviour could lead to a total ban on dogs in the forest!
Dog owners-walkers comprise a small minority of visitors to Karura, and of those, the consistent rule-breakers are even fewer. Yet these few persons are jeopardising the privilege for all.
Please spread the word, to non-members as well, and help us maintain the privilege by admonishing dog owners whom you see infringing the rules, and, of course, by obeying the rules yourselves.
Thanks for your cooperation and continuing support.
Click here for more Dog Guidelines.