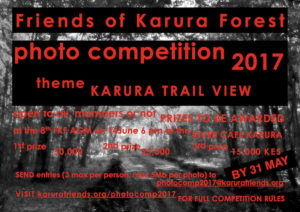 Karura Forest offers visitors some 50 km of well-maintained secure trails for visitors to walk, run or bike, as well as for FKF staff to have access for restoring the forest to its natural state and maintaining it for future generations. Wherever you roam in the forest, you will be 'on the trail'.
Thus the theme of our 2017 Photo Competition is KARURA TRAIL VIEW. We ask you to share what you (and your camera) see from one or more of Karura's many trails. Show us your special vision from the trail (not off-trail, please!).
Click here for the Official Rules.
Email not more than three entries to photocomp2017@karurafriends.org before 31 May. Cash prizes to be won.