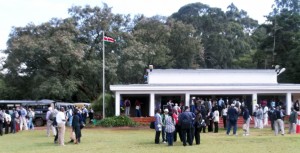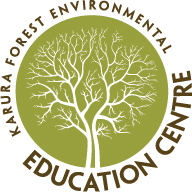 The Karura Forest Environmental Education Trust — KFEET — was established in 2010 to promote environmental education and provide a centre for learning about forest ecosystems. Following discussions with FKF Patron, Alice Macaire, about the need for an education centre, Shell-BP agreed to convert its venerable Sports Club into a centre for learning, whilst at the same time retaining low-impact sports and recreation facilities for generating revenue in support of Karura conservation.
The trust founder members are: Kenya Shell Limited (now Vivo Energy Kenya), Kenya Forest Service, the Green Belt Movement, Friends Of Karura Community Forest Association and the Oshwal Education & Relief Board.  The late Prof. Wangari Maathai was the founder representative of the GBM.
Aims & Objectives,
The Karura Forest Environmental Education Trust aims to create a world-class environmental Education Centre that will strive:
To provide a dynamic meeting place for people with ideas to empower them to develop creative and innovative solutions to environmental problems.
The Centre will strive to promote positive change and foster transformative relationships in the field of environmental protection and conservation by bringing people together. It will complement the activities of other organizations in the field of environmental education in Kenya.
To educate visitors on the multiple values of Karura Forest Reserve and raise awareness on the critical role that Kenyan natural habitats, including forests, play towards attaining sustainable development and achieving Vision 2030. It will educate all visitors on greener lifestyles, including sustainable house practices and healthier cuisine.
To support communities, students, teachers, and women's groups in developing a deeper understanding of the symbiotic relationship between humans and their environment.
To promote local and global awareness of the economic, scientific and cultural value of specific natural resources, ecosystems, and habitats. It will sensitize and educate visitors on current and emerging national and global environmental issues.
To adopt a child-centered focus in our approach to environmental education. The educational programs and exhibitions will cater to children of all ages i.e. nursery up to secondary.
To be fully wheelchair friendly and be fully accessible to physically challenged individuals.
To be world class but retain a high level of reality and practicality. Visitors should be able to relate to the centre and its exhibits. I.e. it should not be excessively "glossy" and hence make visitors feel that the centre is from another world and therefore not practical.
The buildings or physical structures should be designed to blend in and complement the surroundings and habitat. They should not be in conflict with their immediate environment.
By embracing and including the leading edge and latest "green" building technology and concepts within its structure, the centre will act as a showcase of green and sustainable building practices and lifestyles.
The Education Centre
A new purpose built facility will be required to host the various components of the education centre. In keeping with the primary purpose of the Centre which is conservation and preservation, the following points should be considered whilst designing the new facility:
Minimize the carbon footprint. We must practice what we preach.
Minimize the encroachment on the forested areas by limiting the development as far as is reasonable within the currently built up area.
Use low environmental impact materials. For example, cement that has a high in-built energy contents will be discouraged whilst wood from well managed plantations should be encouraged.
Make the centre as self sufficient as possible in water and energy efficient use of water resource, rain-water harvesting and recycling of grey-water must be practiced.  Electricity should be generated with solar PV panels and wind mills. The structure should be a live model and a show-case reflecting all the green building practices.
The design and layout should be simple. It should not be too complex that it alienates the visitors and is in conflict with the Centre's theme and objectives.
Above all the Centre and the exhibits should provide a well-rounded and lasting experience for all visitors. Aspire to inspire.