Opening hours: 06:00 AM to 18:00 PM
All proceeds go to forest security, improvement and maintenance. All prices in Kenya shillings.
Forest Entrance Fees:
Individuals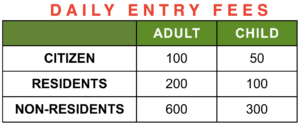 (NB: 'CITIZENS' are Kenyan citizens; 'RESIDENTS' are defined as non-citizen persons living in Kenya only. Proof of Kenya citizenship and residency is required.)
Parking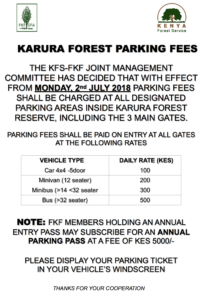 Guides
Accompanying FKF Guide 300/= per 2 hours
Collect Guides and pay for their services at Limuru Gate or the KFEET Centre.
Please ensure you get a receipt of payment.
Picnics
Picnics on one of the five designated picnic sites — near the KFEET Centre, adjacent to Amani Garden, at the Ruaka Swamp, in Sigiria near the Obstacle Course, and in Karura Gardens on Kiambu Road — must be pre-arranged and booked through the KFEET office. Note that a picnic is defined as a small (not more than 25 persons max) packed-snack affair for family and friends, and must neither involve catering nor erecting temporary structures such as tents (see Events, below).
The Picnic Fee per person shall be as follows :
Adult                       150/=
Child (12 & under)  100/=
Note that the picnic fees do note include forest Entry and Parking Fees.
Parking fees should be paid separately (see chart above).
Please note that there is no picnicking whatsoever permitted in any part of the forest apart from the designated areas indicated above.
For further clarification, please note that a 'picnic' is NOT a 'barbecue'. According to the Oxford Dictionary:
Picnic: An occasion when a packed meal is eaten outdoors especially during an outing OR a packed meal eaten outdoors. [Note: No mention of cooking, grilling or roasting.]
Barbecue: A meal or gathering at which meat, fish or any other food is cooked outdoors on a rack or open fire.  Note: No mention of picnic.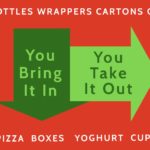 Please remember that Karura Forest is Plastic Free, and don't forget to take your rubbish out of the forest when you are finished with your picnic.
Events
The 3 ha (7.5 ac) KFEET Centre grounds and the Old Farmhouse area near Amani Garden are ideal for larger functions that require catering and infrastructure such as tents and sound equipment. Events include::
Corporate team-building
Weddings
Charity fund-raising
Commercial and promotional events
Regular fixtures (sporting, training, etc.)
Exhibitions
Charges vary depending on the nature of the event, the number of participants and the amount of catering and support infrastructure required. A maximum of not more than 1,000 participants per day is encouraged to minimise impact on the forest and surrounding neighbourhoods.
Music and sound must be kept to a level that can only be heard within the perimeter of the event area.
Organised events that may be within the forest, include:
Walking, running or cycling events
Photoshoots and filming sessions
Charges shall be negotiated for each such event. Please also see the FKF filming policy guidelines.
Please enquire for rates and rules: telephone 0739-262092 or 0791-398371 or via email, info@karurafriends.org
Bike Hire
Visitors to Karura Forest can now hire a sturdy multi-speed trail bike to use on designated forest trails.
Charges: KES 500/= for two hours extendable.
   Contact: James for information & booking, tel. 0734-727257
School Parties for over 10 Children
These charges will include provision of accompanying FKF Scout or Guide.  Accompanying teaching staff and drivers may enter for free. The standard charge per person (irrespective of nationality) will be as follows:
School children attending private schools :                100/= per child
Parking for private school buses at KFEET Centre : 500/= per vehicle
School children attending Government schools :        50/= per child
Parking for govt. school buses at KFEET Centre:      200/= per vehicle
Contact: Education Officer Lucy, 0739-262092, lnjoka@karurafriends.org
Annual Passes
Members of Friends of Karura can obtain Annual Entry and/or Passes from the KFEET Office in the forest or from FKF office at Triad House, 73 Muthaiga Road, Muthaiga Tel: 0722-891654 (Agnes).  Click here to learn how to become a member.
FAMILY ANNUAL & LIFE PASSES cover entry by two registered adults and their children 12 and under. Family Members may in addition purchase a Junior Annual Pass for reach child aged 13 to 17 years inclusive. Note that Annual Pass holders may also purchase an annual parking pass for the new parking area at Amani Garden (parking at KFEET remains daily).
Ready to join the Friends of Karura Community Forest Association? Get a membership form here.
Events & General Enquiries
Contact: Events Manager on 0739-262092 or 0791-398371 or info@karurafriends.org
John Chege, Chief Scout: 0728-606449, jchege@karurafriends.org
FKF e-mail
Maps
The New Revised Karura Forest Map is now out, showing all tracks, junctions and main forest features. Only 200/=, at main gates or FKF administrative office at Karura Forest House, Gate-A Karura Forest Reserve, Limuru Road.
An illustrated list of main bird species is available F.O.C.
Opening hours: 06:00 AM to 18:00 PM
Friends of Karura
Community Forest Association
PO Box 63402-00619
Karura Forest House
Gate-A, Karura Forest Reserve
Limuru Road, Nairobi, Kenya
General Enquiries: +254 (0) 728 501333
info@karurafriends.org
Comments & suggestions: rafiki@karurafriends.org
www.karurafriends.org