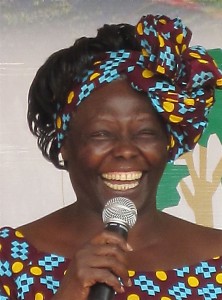 Nobel Laureate Prof. Wangari Maathai, FKF Patron, died on 25 September 2011 after a struggle with cancer as courageous as the rest of her life.
Kenya and the world lost a great leader for the people and the environment.
Wangari, founder of the GreenBelt Movement and UNEP's Million Tree campaign, shed her blood in the Karura Forest in 1999, leading a group of concerned citizens into a confrontation with thugs hired by lawless developers who were trying to grab the forest.
She had been with the Friends of Karura Forest as its Honourary Chairperson since its inception in 2009, providing inspiration and her considerable influence to ensure effective paths were followed.
When you next walk in the Karura, look around you, think of Wangari, and thank her for what you see.