Dog-walking, especially in an urban environment is an excellent exercise and pastime for both dogs and owners. For a pleasant experience for dogs, owners and other forest visitors, please adhere to some simple guidelines. Having dogs in a national Forest Reserve is a privilege not a right.
For your own dog's safety, all dogs must be leashed before getting out the car in the car park.
Dogs must be leashed at all times except in areas clearly marked "Dogs off Leash." See maps of designated areas in Sigiria and the main forest below. The start and end of all designated areas are clearly signposted along the paths. Even in Off-Leash areas dogs must be under voice command control at all times.
If your dog poos on the trail, please be considerate to other walkers and joggers and use a twig to move it off the path, if possible kick a bit of dirt over it.
All dogs must have current vaccinations, including yearly rabies. The forest belongs to the wildlife. All mammals can carry rabies, so please protect your dog by vaccinating!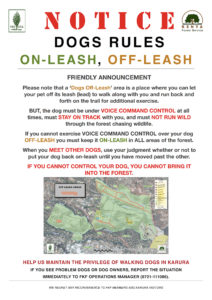 Click here to download a PDF version of the above dog rules.
Dog owners who do not comply will be warned. Those who chose to ignore the guidelines will be barred from bringing their dogs into the forest in the future.
Here is an optional canine bandana code. It's a good idea to colour-code your dog, so when dogs meet on the trail, the owners will know how to behave:
RED: Dog is reactive. Keep a reasonable distance.
BLUE: Dog is friendly but owner chooses not to allow greetings of any kind.
GREEN: Dog is friendly and owner welcomes on greetings.
PURPLE: Dog is timid or fearful. Keep reasonable distance.
When you enter the forest with a dog, the G4S Guard or Karura Forest Scout will ask you to read the new rules and agree to abide by them.
Thank you for helping to make the Karura Forest an enjoyable place for dogs and people alike!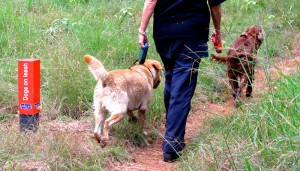 Click here to see map of Off-Leash areas.