Archive of events & activities held in the Karura Forest

January 2014
25th –  Karura Forest Gate C (Sharks Gate) Opens: Access and point of payment for bikers and walkers, both human and dogs
25th –  Wedding Party: Private Function
19th –  Ishmaeli Women's Community Celebration of Women
11th –  Oshwal Academy Junior High cross-country
11th –  Oshwal Academy Staff Team-Building & Party
4th –  Wedding: private function.
December 2013
24th –  Wedding: private function.
8th –  Friends of Karura Forest Xmas Drinks. The annual get-together for drinks and bitings at the KFEET Centre. See here for happy snaps.
6th –  Postel Tree Planting. Kenya Postel Directories Ltd along with Wells Fargo Security (partners in Postel's paper recycling programme) supported the clearing of Lantana and planting of 500 indigenous trees along the Family Trail at the Turaco Creek bridge and Junction 8.
November 2013
16th –   Bizarre Bazaar Xmas Fair
October 2013
12th –  Karura Forest Challenge. Fitness day in Karura sponsored by BootCamp and Wellness Solutions.
11th –  School Bag Donation to Cheleta Primary. FKFt in partnership with School in Bag (The Piers Simon Appeal,  a UK Registered Charity) donated 850 bags to Cheleta Primary, the school for children from Huruma and Githogoro informal settlements that are northern neighbours to Karura Forest.
4-5th –  Oktoberfest 2013 .  The German Business Association hosted this year's Oktoberfest 2013. More than 1500 Kenyans and other nationalities enjoyed traditional German food as they listened to performances by bands like Dirndl Jäger from Germany and Kenya's Calabash Band.
September 2013
29th –  Globeathon 2013 Kenya Chapter Fun Day. Women4Cancer invited 500 people to walk in the Karura Forest in solidarity with the rest of the world.
24th –  Access Kenya Team-Building
24th –  Wedding : private function.
23rd – Second Anniversary Commemoration of the death of Prof. Wangai Maathai. The First Lady of the Republic of Kenya, H.E. Margaret Kenyatta, presided over the commemoration to honour of the life and work of Professor Wangari Muta Maathai. The Green Belt Movement hosted the event that served to remind Kenyans and the world of the cause that she fought for her entire life, environmental sustainability.
14th –  Wedding : private function.
August 2013
24th –  Wedding : private function.
19th –  Wedding : private function.
10th –  HOPE Youth Prayer Walk to coincide with the celebration of the annual International World Youth Day, 12 August 2013. The event aimed to raise awareness on the issues affecting the youth and a show of support as parents, guardians and mentors in helping them overcome today's challenges.
3rd –  Residents' Associations Run (or Walk) for Karura Trees. Seven residents' associations surrounding Karura sponsored a run/walk and tree-planing in support of the Friends of Karura Forest.
July 2013
31st –  Wedding reception party: private function.
12th –  Pre-wedding picnic: private function.
June 2013
29th – NAI NI WHO in (and around) Karura. The NAI NI WHO movement — A Celebration of Nairobi Neighbourhoods — has included Karura Forest in its Zone 7 which comprises primarily Muthaiga and Gigiri estates.
22-23rd. Bizarre Bazaar Summer Fair 2013 held at the KFEET Centre grounds.
19th – Tree Planting and Fun Day to Mark World Environment Month sponsored by the We Care Club.
8th – Kikwetu Ecofeast. Kakamega Friends of Nature sponsored an EcoFeast social picnic.
5th – World Environmental Day – Tree Planting. The Village Market Family sponsored the planting of 3,000 trees.
3rd –  FKF Annual General Meeting @ Muthaiga Country Club
2nd – Inauguration of KFEET Centre Auditorium.  The First Lady of the Republic of Kenya, H.E. Margaret Kenyatta,  presided over the official Inauguration of the Auditorium at Karura Forest Environmental Education Centre. Many dignitaries were present, such as the Hon. Judy Wakhungu (Cabinet Secretary for Environment, Water and Natural Resources), the Chairman of the Board and Director of KFS, senior officers from major corporate sponsors such as Kenya Shell (now Vivo Energy) Barclays Bank and Davis & Shirliff, the Board Members of the Oshwal Education and Relief Board, KFEET, FKF, neighbouring Residents' Associations, officials from the Greenbelt Movement, members of the Diplomatic Corps, and UNEP. More photos can be viewed here.
1st – Wedding: private function.
May 2013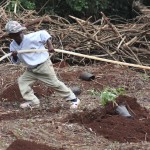 27th – Davis & Shirtliff executives, staff and family planted 1,100 trees as part of their Founder's Day 2013 celebrations in Karura Forest. Pumps and plenty of water were provided to get the young trees going. More photos can be seen here.
4th – Baraka Foundation Karura Survivors Edition
April 2013
7th – Rhinothon Cycling Marathon 2013.
March 2013
24th – I & M Bank Family Fun Day.
22rd – Tree-planting and Treasure Hunt sponsored by Seven Seas Technologies.
16th – Digital Divide Data Team Building.
 February 2013
25st.  Nairobi Kitchen & Food Festival, the premier kitchen and food event in Kenya, offered visitors opportunities to shop for seasonal produce, speciality foods, kitchen appliances, etc. 

21st.  A ceremony held to mark the signing of the Forest Management Agreement on 1 February (see Facebook post here). KFS Director D.K. Mbugua invited the KFEET (Karura Forest Environment Education Trust — see here) to consider extending the current lease for the KFEET grounds for a significant period.
16th. Wedding: private function.
9th. Wedding: private function.
1st.  Signing of a 5-year Forest Management Agreement between FKF and KFS marking is a major milestone for stakeholder citizen involvement in joint-stewardship with government of an important national resource. The terms of the agreement cover such areas as security (electric fence, manned gates and associated infrastructure), conservation (reforestation, resource management, controlled access), and eco-friendly activities in support of conservation, education, science and recreation; as well as shared financial accountancy for all joint activities. The agreement enshrines the principles of cooperation that have hallmarked the phenomenal re-emergence of Karura as a protected national heritage since 2009, when FKF was chartered as a community forest association.
January 2013
31st.  Taste Awards 2013 celebrated Nairobi's vibrant dining and entertainment culture, giving Nairobi residents the opportunity to have their say on which establishments they feel are the city's best.
December 2012
10th. The Aga Khan Junior Academy 'Rated E for Environment' Club planted 150 trees on 10 December. The kids had organised a wholesale purchase from Dairyland of ice cream that they sold on to raise 40,000/= for the clearing, tree purchase and subsequent care of the young trees. That's the spirit!
9th. The Friends of Karura Forest Xmas Drinks was held at the KFEET Centre on Sunday, 9 Dec. More than 100 Friends and their families enjoyed drinks and bitings provided in part by the Muthaiga Mini Market, Pomodoro, the Tamarind and Mr. Arun Devani. Photos of the event can be found here.
1st.  EcoPlant Green Ambassador organised a sponsored (Toyota, Ellams, Milimani Drinking Water, Bobomil, Kenya Airways, Quatar Airways, CocaCola) planting of 800 trees by kids from the Lighthouse Grace Academy and the Watu wa Maana Children's' Home in Ruiru.
1st.  Kids and Parent Magazine Treasure Hunt and Family Fun Day
1st.  SEED School Walk. All proceeds went to the development of Seed Junior Academy and help complete construction of the school.
November 2012
30th. Maasai Africa team-bulding.
23rd.  Marketing & Social Research Association (MSRA) team-building event.
16-18th. Bizarre Bazaar 2012 was held at the KFEET Centre grounds. Over 3,000 visitors got their Xmas shopping done in the serenity and safety of Karura.
13th. Peponi Treasure Hunt to mark a special Science Week for students of Peponi House School, 180 pupils participated in an adventure activity.
10th. The National Organization of Peer Educators (NOPE) team-building event
3rd.  Karura Chapel Fun Day @ KFEET Centre Sport Grounds
October 2012
27th.  Presidential Award Kenya Launch Expedition Challenge 2012.  Over 600 high school and university students  participated in a survivors' challenge. Groups of 10- 15 competed in a series of adventurous fun activities set along a 10Km obstacle course.
23rd.  Tree-planting. 70 delegates from six continents attending the annual Educational Tour of the  Women in Tourism International Alliance planted 260 seedlings in honour of the Late Wangari Maathai.
13th. Muthaiga Country Club Fitness Day in support of Breast Cancer Research. Included continental breakfast, 5-km Family Treasure Hunt, plus 5-, 10- and 15-km runs.
5th. Oktoberfest – Kenya Edition. The Kenya edition of the 200-year-old German beer and music celebration.
September 2012
27th. Samosa Festival 2012 – Music & Sculpture. Featuring Nairobi's most famous and popular alternative rock band, Murfy's Flaw.
23rd. Samosa Festival 2012 – Music & Sport
August 2012
26th. Fidelity Bank Charity Walk.
19th. The Survivors – Kenya Edition, Nairobi's premier family event with a difference. All for a charitable cause, the event was designed to cater for the needs of the old and young alike, a unique and exhilarating adventure rally that required attitude, aptitude and a zeal for adventure.
4th. Commercial Bank of Africa Team-Building
July 2012
28th. Bootcamp Health & Fitness event.
22nd. Gurmeet Mehta wedding.
21st. The International Finance Corporation had a staff IFC Family Fun Day to see off their executive leaving for another posting. A fun day with a foot ball match, bouncing castles and art work gave the staff members and their families an exciting experience in the forest
11th. University of Tsukuba, Japan, visit, involving ten graduate students and two professors from the School of Life and Environmental Sciences.
2nd. Fifty five pupils, parents and teachers of the Aga Khan Academy joined the FKF patners in restoring Karura Forest by planting three hundred indigenous seedlings of trees near the Limuru Road gate.
June 2012
15-30th. Photographer Karure Wachira exhibited his calendar photos of Karura butterflies at the KFEET Centre.
27th.  ICRAF-IUFRO Congress visit.  Led by their President Niels Elers Koch, the Global Network for Forest Science Cooperation delegates planted ten ceremonial trees at the Limuru gate, had lunch at KFEET Centre  and a nature walk  to the waterfall and Mau Mau caves.  The delegates were pleased by the success of Friends of Karura Forest, and their president congratulated FKF for its accomplishments within such a short period.
23rd & 24th. Although June was a chilly month, the Bizarre Bazaar Summer Fair turned out to be a fun-filled shopping spree in the forest with over 3,000 visitors attending.  An exciting collection of East Africa's finest crafts, jewellery, furniture and household products were on sale. The young ones had fun with the Bouncing Castles and Star Jump. More on BizBaz here.
10th. The Shree Cutchhi Leva Patel Samaj Youth League donated three trail bicycles to the FKF Scouts. Many thanks to the League from all Friends of Karura!
3rd.  A Family Treasure Hunt organized by Kids & Parents Magazine together with Capital Kids was a great success. See Susan Wong's article in the Capital FM Lifestyle Magazine.
April 2012
17th .  Karura Valley Trail Opening. Kenya Forest Service Director D.K. Mbugua and Friends of Karura Chairman Njoroge Karanja welcomed Mr. Jock Anderson, Director of AFEW (African Fund for Endangered Wildlife), to inaugurate officially the AFEW-funded amenity infrastructure on the Karura River valley trail. The impressive new steps and two stout bridges across the river make the famous Mau-Mau Caves and the Waterfall easily available to all visitors.
8th.  Umoja Group picnic.  32 people attended.
5th.  1000+ trees planted by FKF along Limuru Road main gate to the KFEET Centre. Also, the invasive Lantana understory has been cleared away (through a FKF sub-contract with Mama Sofia and her Huruma Mushroom Self-Help Group) with support from a number of generous private donors.
1st.  Helping Hand Charity Walk. Organized by students from Oshwal Senior High. 96 people participated.
1st.  Oshwal monthly Walk.  31 people participated.
1st.  Annual Antelope Romp.  73 Duikers and Bushbucks participated.
March 2012
31st.   E.A. Swaminarny Temple picnic. 185 people attended
25th.  Baladia Community picnic. 500 people attended the community Fun Day event.
4th.  Oshwal monthy Walk. 81 people participated.
February 2012
25th.  Boot Camp event. 25 people participated in the event.
18th. Runda Association Charity Walk. 38 people participated in the Walk.
12th. Bicycle Cycling event. 142 people attended.
5th.   Oshwal monthy Walk & Mini-Marathon. 192 people participated.
January 2012
27th. The KSPCA (Kenya Society for Protection and Care of Animals) hosted a charity fund-raiser Dog Walk in the Forest.  Over 100 dogs brought along their owners for a great walk in the woods and a lunch-time charity raffle with prizes provided by several corporate dog-lovers.
15th. FKF hosted a New Year's Drink at Karura for its members and  to welcome new members. Over 80 people attended.  Many thanks to Caroline Mather of Cama Trading for providing wine and to Raj Ruparel of Muthaiga Mini Market for soft drinks and hotdogs for kids. Fausto Trufelli of Pomodoro catered for us at a discounted rate.
8th.  The Oshwal Academy held a staff party attended by 250 people.
7th. The Ministry of Wildlife and Forestry in conjunction with Miti Mingi Maisha Bora hosted the National Children's Assembly at the KFEET Centre attended by 170 people
1st.  The Oshwal Academy held its monthly walk.
December 2011
25th.  King Wear Company held a Christmas party attended by 150 people.
24th.  Good Shepherd church held a Xmas service/party attended by 100 people of Ethiopian decent living in Nairobi.
10th.  Outlook Ltd held a colorful staff Christmas party attended by 60 people
9th.  IOM held a staff party at the KFEET centre attended by 130 people
3rd.  Digital Divide Data Company held a team building/staff party attended by 85 people
2nd. Trade Mark EA Company held a staff part attended by 60 people
November 2011
26 November.  The Muthaiga Golf Club held a Fittiness Walk/Run. 100 people participated.
25  November. The General Electric Company held a very successful team building and staff party at the KFFET centre attended by 60 people
25  November. The Standard Chartered Bank the Green Belt Movement planted 1100 indigenous trees at the KFEET centre behind the Club house after clearing the Lantana bush at the site. The tree planting was part of the banks Centenary Celebrations and also to celebrate the rate Pro. Wangari Maathai.
19th. The KFEET Centre hosted a colorful wedding ceremony attended by 400 people
October 2011
29th. Kenya Horticultural Society Plant Sale at tat the KFEET centre grounds.
29th. Party in Pink! – Zumbathon Charity Event at the KFEET centre
15th. Commemorative tree planting at the Wangari Maathai Corner:  the Friends of Karura Forest, including board, members, supporters and well wishers planted 5000 tree seedlings at the Wangari Maathai Corner in tribute to our late Patron and Nobel Peace prize Laureate, Prof. Wangari Maathai.
15th. Capital FM musical Concert.
Sunday, 2nd from 10: 00 AM to 16:00 PM. Karura Forest Open Day to Honour Wangari
FKF and the Kenya Forest Service announced that the Karura Forest would  be open to the general public free of charge as a tribute to the late Prof. Wangari Maathai. A condolence book was available for all to sign at the KFEET Centre.
Hundreds of Kenyans walked in walked in Wangari's footsteps. They were guided through the forest to the waterfall, Mau-Mau Caves, Wangari Maathai Track and finally to Wangari Maathai's Corner, the historic place where the Professor almost lost her life protecting the forest from land grabbers in 1999.
September 2011
The western part of the Karura forest, popularly known as Sigiria was secured with the completion of an electric fence, with scout patrols and G4S security at the gates.
The Sigiria side is less known to visitors.  It has a beautiful wetland and three river valleys with magnificent indigenous trees, bush buck, duikers as well as bush pigs can be spotted in this section of the Karura.
July 2011
31st. G4S Cross-country Challenge.
June 2011
25-26th June. Biz-Baz: 'Bizarre Bazaar' –  this year's Summer Craft Fair, right in the heart of the forest.  The best summer shopping spree in town!
May 2011
Activities include:
Oshwal monthly walks,
guided walks with our Scouts or Rangers, and
bird watching.
April 2011
23-25th. Easter weekend proved to be extremely busy.  It highlighted the need to manage visitors to a set of established rules in order to: keep people to the 'marked' paths, not leaving litter, keeping dogs on leashes (except for designated areas) and not driving in the forest (except to the KFEET Centre) etc.
19th. The Annual General Meeting (AGM) of the Friends of Karura Forest Association was held in the ballroom of Muthaiga Country Club and was well attended.  Karanja Njororge is the new Chairperson.  Alice Macaire and Wangari Maathai were nominated – by acclaim – as Patrons.
13th. A talk was given by Alice Macaire to the Kenya Museum Society at the Nairobi National Museum: 'Rejuvenating the Karura Forest – From Danger Spots to Green Haven'.  The event was well attended.
General activities in April:
Mwadime Nyango – a taxonomist – has completed a study of the trees and plants that can be found in the forest; he is currently compiling a list of his findings. Prominent trees along the main trails within the forest will be labelled for identification purposes.
Two of the Forest Rangers have attended a Nairobi Metropolitan Workshop at the Giraffe Centre; the Workshop was to gain experience in educating schoolchildren visiting the forest.
BATUK (British Army Training Unit in Kenya) will start training some of the Scouts and Rangers.  This is due to take place during the month of May.
March 2011
21st. The Kenya Forest Service held a function to celebrate 'World Forest Day'.  More than 600 invited guests attended, including Minister Wekesa, Wangari Matthai, the Head of UNEP – Achim Steiner – and many ambassadors.
20th. The Peponi Schools PTA 'Treasure Hunt' was extremely well organised and well attended.  Grateful thanks for the very kind donation of KShs 74,000/= from this event.
19th. Serena hosted a 'brunch' for 40 of Kenya's top CEO's in order to raise funds for the Friends of Karura Forest's project 'wish-list'. Despite the rain and difficult conditions, the event was a huge success and was graced by the presence of Wangari Maathai.
16th. The Administrator of the US Environmental Protection Agency – Lisa Jackson – visited the forest and the KFEET Centre, together with the US Ambassador – Ranneberger.  Trees were planted to commemorate the event.
4th. A visit by St. Lawrence university students was officially the KFEET Centre's first environmental education event.  Talks were given to the university students about Karura and its history.  They were also taken on a guided walk to the caves and waterfalls by our Scouts.